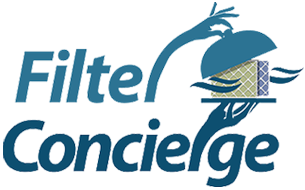 Why My Filter Concierge
Fight 40 Pounds of Dust Bunnies: It's not something out of a horror movie. That's how much dust accumulates in an average home in one year. Let the filter concierge take the sting out of filter changes by having your filters shipped right to your door. Sure we can service your system twice a year but filters should be changed monthly or quarterly at least.
Beat the Dust Bunnies
Change the right filter Diligent sweeping and vacuuming can help, but regular filter changes or upgraded filtration can take care of the dust bunnies before the dust hits the ground. Studies conducted by Environmental Health & Engineering and professors from the Harvard School of Public Health show that the installation of high quality filtration systems reduces dust accumulation in the home by more than 50 percent — meaning you can dust less and have a healthier, more comfortable home environment.
How it Works
In one word SIMPLY! If you are already a Superior customer we know your filter size so all you have to do is sign up and be ready to tell us how often you want to change your filter, once a month or once a quarter.
Not a currant Superior customer or live out of town. No problem all you have to know is your filter sizes then just sign up and tell us how often you want to change your filter, once a month or once a quarter. From there we will either drop a box of filter off or ship them out to you. We will keep track and automatically reorder them when needed. To help you remember to change your filter we will send you custom email reminders based on the frequency you wish to change your filter.
Not Convinced?
Studies from Harvard & LSU have proven that 60% of your power bill is heating & air Conditioning related, well a dirty filter can add 10% to that number. A dirty system will result and then that added dirt accumulates on the blower wheel. 1/100 of an inch of dirt on a blower wheel can increase operating costs by another 5%! Filters are the life blood of your HVAC system. Dirty filters are the cause of over 80% of system failures and result in premature system failure. A clean system will pay for the filters every year in energy savings. So basically its Free! Sign up today.